Refill advice during Coronavirus outbreak
As a global community, we know we must pull together to support each other and do whatever we can to contain and delay the spread of the COVID-19 virus. We need to respond with compassion, help each other out and support the many vulnerable, isolated individuals and small businesses that will be the most impacted by the situation.
As an organisation, City to Sea will continue to champion positive solutions and practical action. We'll also be encouraging our supporters to back local businesses as much as possible, as we know they will be feeling the pressure of any closures. Refill is, at its core, a grassroots movement powered by communities and we'll continue to work with our Refill schemes and stations to offer as much support as we can.
Together, we believe we can both keep people safe and minimise the long-term environmental impact of the situation; maintaining the positive progress we have made away from single-use and towards reusables.
What is COVID-19 (Coronavirus) and how is it transmitted?
Health & hygiene advice when refilling
Public health and the health of our Refill Station users and staff has always been of paramount importance to us and as such, our health and hygiene advice remains unchanged. We believe we can stay safe and continue to reduce waste by refilling on the go if we're mindful of basic hygiene advice and support each other to keep refilling clean and hygienic.
All reusables should be cleaned regularly and thoroughly between uses, washing with warm water and suitable detergent.

As with cash, or any other item that you come into contact with, wash your hands before and after handling any reusables items (bottle or cup) if you are having it refilled.

Wash your hands before and after passing your reusables to Refill Station staff.

You could ask for your drink in a cafe-owned mug (if they have one) that you can then pour into your reusable, reducing the contact risks.

Don't use a Refill Station if it looks unclean or you have any concerns about hygiene. Please report via

[email protected]

so we can take appropriate action.

Fill up your bottle before leaving the house reducing the need to fill up on the go. You'll also know exactly where it's been and who has touched it!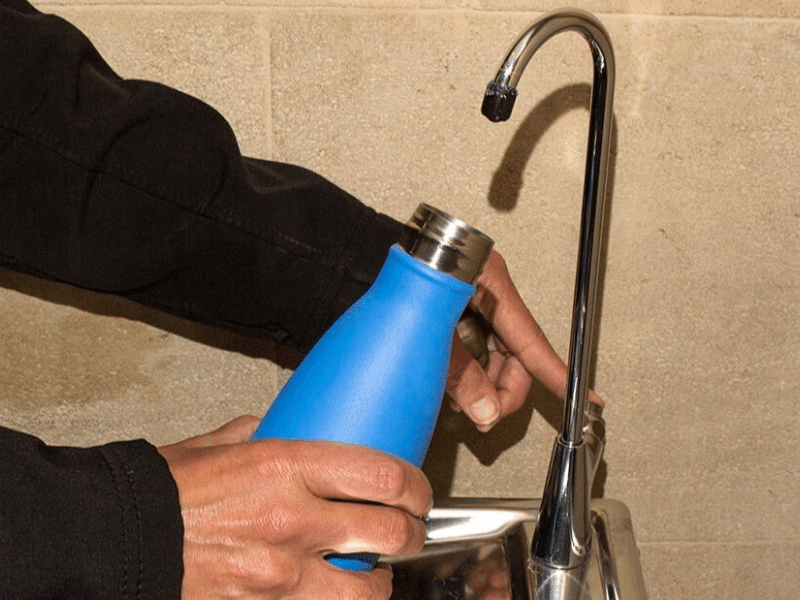 Are there any risks from drinking water?
Coronavirus is not a water-borne virus, and the UK has some of the cleanest drinking water in the world.
Advice for Refill Stations
We have a duty of care to our 280,000 Refill app users and will be emphasising our hygiene advice for individuals using reusables.
Where possible, we'd like to support businesses in continuing to allow the safe use of reusables in your stores, so staff and customers can protect their health as well as the planet. We know this might mean introducing additional safety and hygiene steps – so we'd like to offer our help in communicating these to your customers and our app users.
However, we recognise that some businesses have taken precautionary measures and temporarily stopped accepting reusables. For any Refill Stations that have taken this step, we have introduced a new process to pause your listing on the Refill app until you accept reusables . Please email [email protected] for more information.
The following section details our advice on maintaining good hygiene for your business.
1. Water Bottles 
To ensure good hygiene and minimise any risk of cross-contamination, we advise following our existing guidance to keep the refilling of reusable bottles clean and hygienic at your premises.
Only accept bottles from customers if you feel safe to do so. You can refuse to refill a bottle if it looks dirty or unhygienic.

Always handle the bottle from the bottom and encourage your customer to hold the bottle at the top to minimize cross over or contamination.

When refilling, ensure that there is no contact between the bottle and the tap, jug or nozzle.

Never touch the neck of someone else's reusable bottle. Ask the bottle owner to remove the cap themselves before you refill it.

Wash your hands after handling someone else's bottle.
2. Reusable cups and containers
As with water bottles, we would underline the importance of the following measures to keep the refilling of reusable cups and containers clean and hygienic at your premises:
Only accept reusable cups from customers if you feel safe to do so. You can refuse to refill a cup or container if it looks dirty or unhygienic.

Always handle the cup or container from the bottom and encourage your customer to hold it at the top to minimize cross over or contamination.

Ask the customer to hold onto the lid themselves.

Wash the reusable cup prior to refilling.

Or if you would prefer not to touch the cup at all, dose from one cup to another to prevent touching.

Wash your hands after handling someone else's cup or container.
3. Fountains
Preventative measures are recommended for any organisation currently responsible for in-house refill stations.
Install signs near any drinking equipment, advising water dispenser users not to touch the tap with their mouth or the mouth of their water bottle and to clean their bottles regularly.

Provide adequate sanitation facilities for people using the dispensers. Either hand gel sanitiser or hot water and soap.
Organisations with water dispensers should review cleaning processes and ensure they are fit for purpose.
Clean all communal areas regularly – this includes drinking fountains.
Maintain a hygiene monitoring system.
Regular cleaning with food-safe antibacterial sprays will help minimise risks.
In the event that a person who has used the equipment is taken ill with suspected coronavirus, ensure that the equipment is professionally cleaned before further use.
Read our partner, MIW Water Coolers advice on fountains here.
World Refill Day
In light of the uncertainty we all face at present, we have made the proactive decision to postpone World Refill Day until Autumn 2020. As I'm sure you can imagine, this is not a decision that has been taken lightly and we hope you will continue to support the campaign this Autumn. We'll be working away behind the scenes to make World Refill Day our biggest and best yet – celebrating the incredible businesses and communities that have been pioneers of the Refill Revolution and championing reuse over single-use.
Find out more about our decision here.
Staying positive & reducing waste

It's been heart-warming to see some of the amazing responses happening across the world – from communities in Italy singing from their balconies to keep people company, to the #viralkindess campaign taking off with volunteers offering their services to those in need and many local businesses offering to deliver so that customers don't have to come to them.
This will undoubtedly be an overwhelming time for many people and it's important to look after our mental health, as well as our safety. If you're in need of some positive news have a read of our monthly 'Oceans of optimism' feature, or check out our blog on staying positive and reducing waste during a potential period of isolation.