Friday 5 pm can only mean one thing… It's time for Tappy Hour!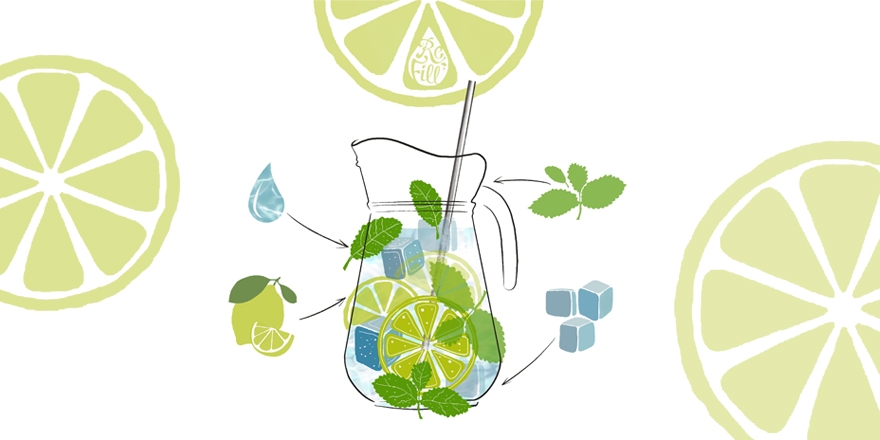 You know how it is, you've had a long week, its Friday afternoon and all you can think of is pouring yourself a nice, long, chilled glass of…tap water! 
Well, you've come to the right place. Here in the UK, we're lucky to have some of the safest, best quality drinking water in the world – straight from our taps! Despite this, we're making our way through BILLIONS of plastic bottles of water every year – 15 billion in fact. That's a LOT of pointless plastic.  
Three Cheers for Tap Water
Not only is tap water cheaper, more convenient and much more environmentally friendly than bottled water, but it tastes great too! We think that is something worth raising a glass to. 
 
To help keep us hydrated, save money and find new ways to enjoy tap water whilst we're all under lockdown, we've launched #TappyHour – a weekly online cocktail party for all the family. What better time to connect us over a 'virtual' drink and a delicious cocktail made with water straight from our trusty taps? ​​ 
Create your

 

Quarantine Cocktail
Every Friday at 5 pm we'll be raising a glass of a delicious tap water cocktail concoction in a virtual cheers – so why not head on over to Instagram and Twitter and join us? 
Have a go at recreating one of our #TappyHour cocktails – the Lockdown Lime and Mint Mocktail Mojito or the Quarantine Cucumber Collins – by following the recipes below or keep your eyes peeled for more delicious 'Quarantini' recipes released on our social channels every Thursday! Or why not have a go at making your own creation using ingredients you have at home and, of course, a good glug of wonderful tap water. (If you're over 18 feel free to add alcohol if you like, we won't judge!) 
Raise your

 

g

lasses

 

– and cameras

 

– for a toast!
Once you've decided on a cocktail recipe, get snap-happy by taking a photo of your #TappyHour creation – or film a short a video of you making it. The more creative the better so really go for it and beautify your cocktail making it as pretty and 'instagrammable' as possible. We're talking nice glasses, gorgeous fruity garnishes – plus you get extra points for using reusable cups/bottles/straws! 
Then post the photos and videos on your Insta/Twitter channels at 5 pm on Friday– remember to tag Refill and use #TappyHour. If you're really snazzy, a boomerang of you cheers-ing your cocktail is even better! 🥂 
#

TappyHour

 

Cocktail Recipe Week One –

 

the Lockdown Lime and Mint Mocktail Mojito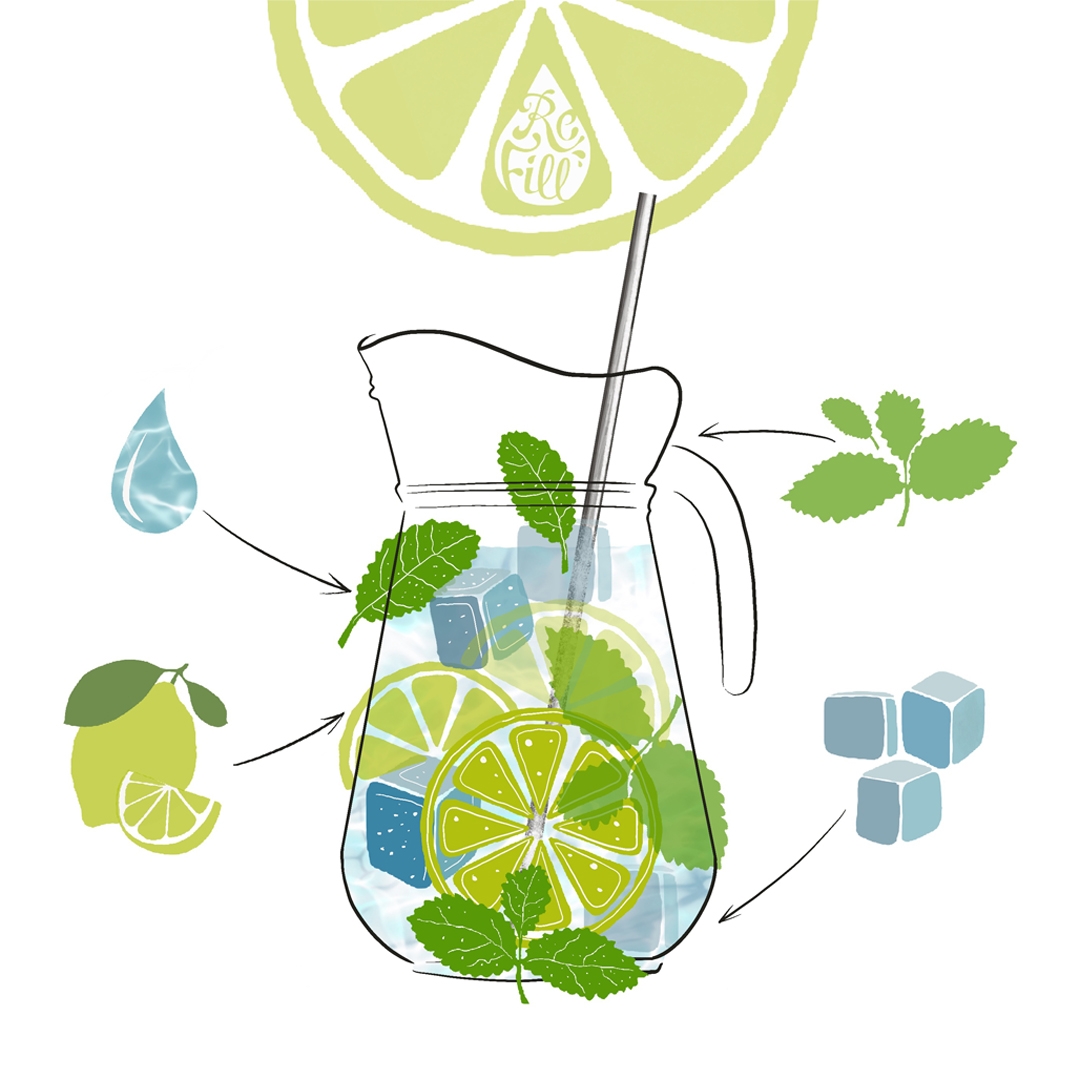 Ingredients: 
1 lime plus more for serving 
½ cup fresh mint 
2 pints of tap water 
Ice 
Instructions: 
Cut 1 lime into quarters. 
Squeeze juice into a jug or pitcher. 
Add the cut lime and the mint to the jug. 
With a wooden spoon, muddle all together to release the flavour of the mint and lime. 
Fill pitcher with water and ice. 
Muddle again with the spoon, give it a stir. 
To serve, fill glasses with ice and garnish with lime slices and mint leaves. 
Make one too or create your own! 
#

TappyHour

 

Cocktail Week Two – the Quarantine Cucumber Collins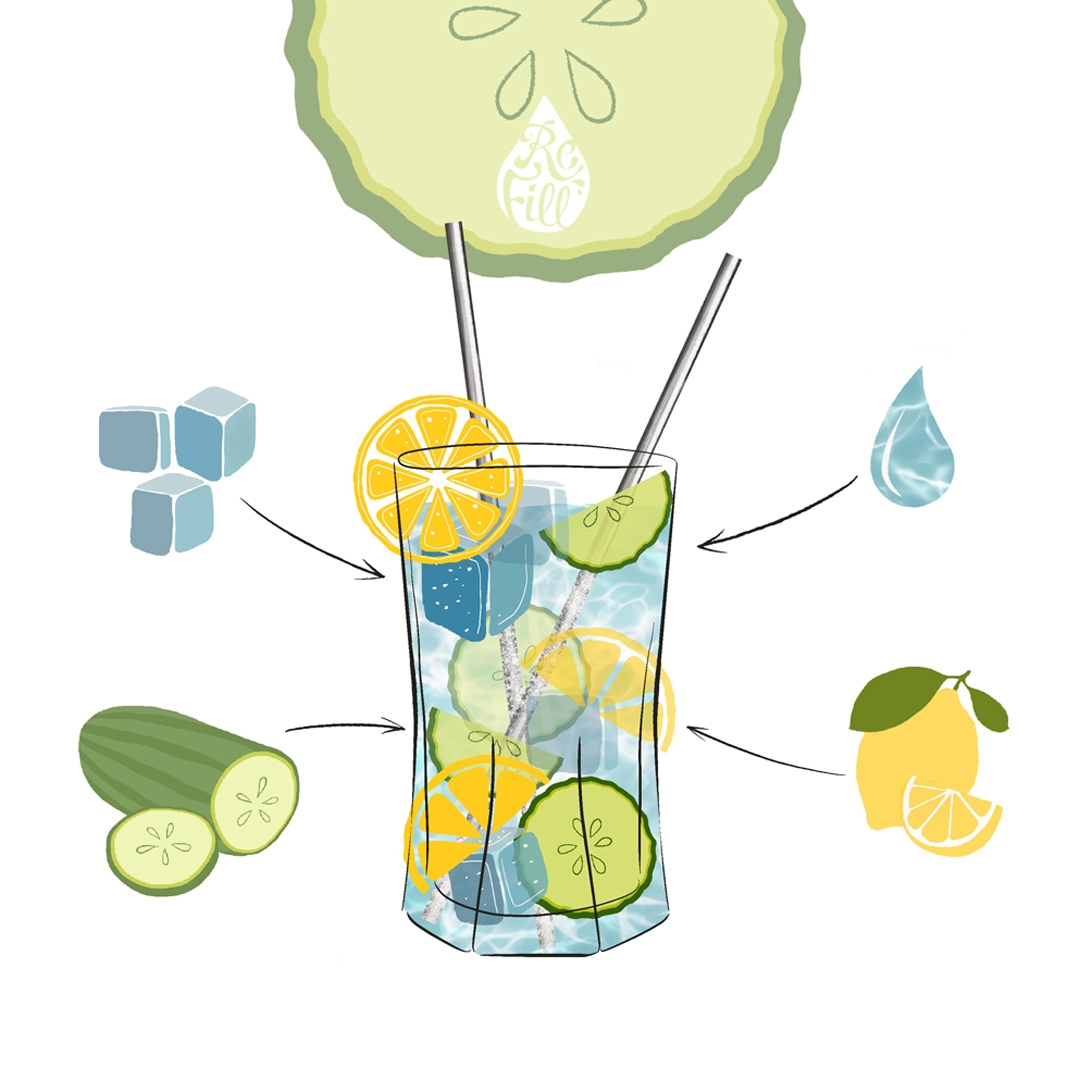 Ingredients: 
1 cucumber 
2 lemons 
Ice 
Tap water 
Instructions: 
Peel the cucumber and mash either in a blender/food processor or with a pestle and mortar. Make sure there are no pieces of cucumber left. 
Juice the two lemons. 
Put the cucumber puree and the lemon juice in a cocktail shaker and shake. If you don't have a shaker you can use a glass jar with a lid or pour between two glasses. 
Pour over ice in a glass and top with tap water.  
Give it a stir and garnish with slices of cucumber.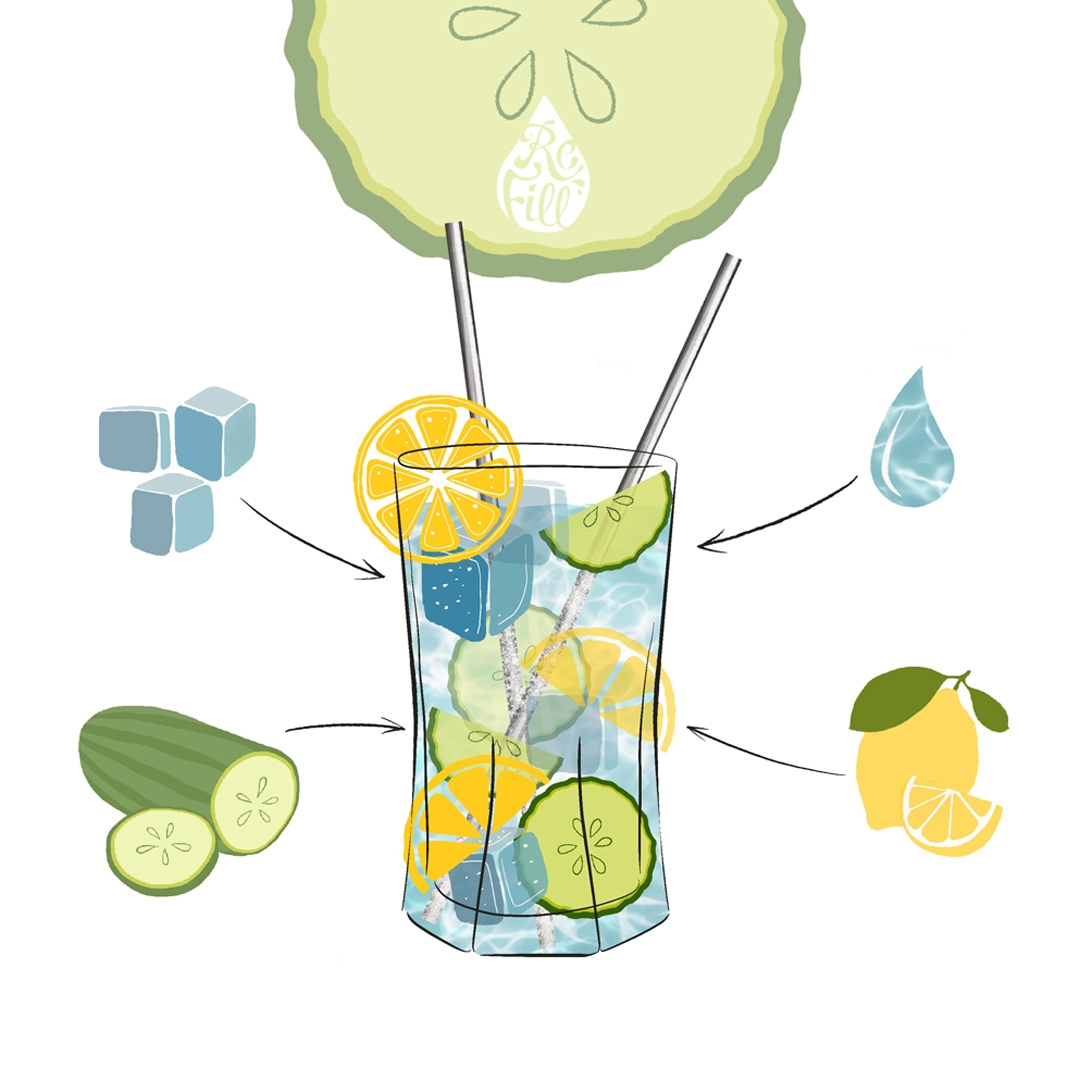 #

TappyHour

 

Cocktail Week

 

Three

 

–

 

the

 

Grapefruit and Rosemary Furlough Fix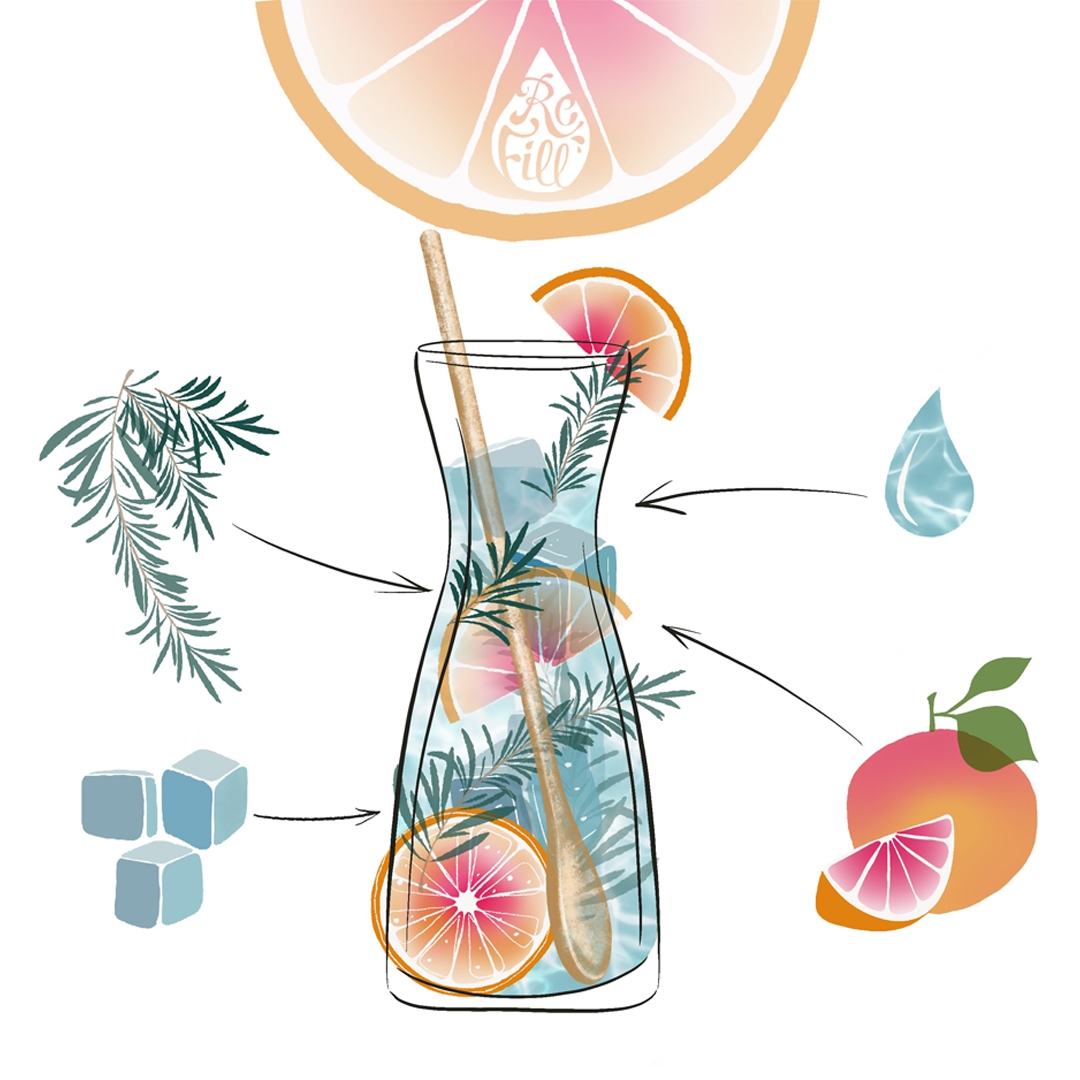 Ingredients: 
1 pink or red grapefruit 
2 or 3 sprigs of rosemary (or use basil or mint) 
Ice 
Tap water 
Instructions: 
Pare the grapefruit by cutting away the peel. 
Cut the grapefruit into segments. 
Put the segments and the rosemary sprigs into a pitcher or large jar. 
Top with tap water and leave in the fridge for 30 mins or longer. 
Or add ice, give it a mix, garnish with a sprig of rosemary and enjoy! 
#

TappyHour

 

Cocktail Week

 

Four

 

–

 

the

 

Working

 

From

 

Home

 

Watermelon and Mint Cooler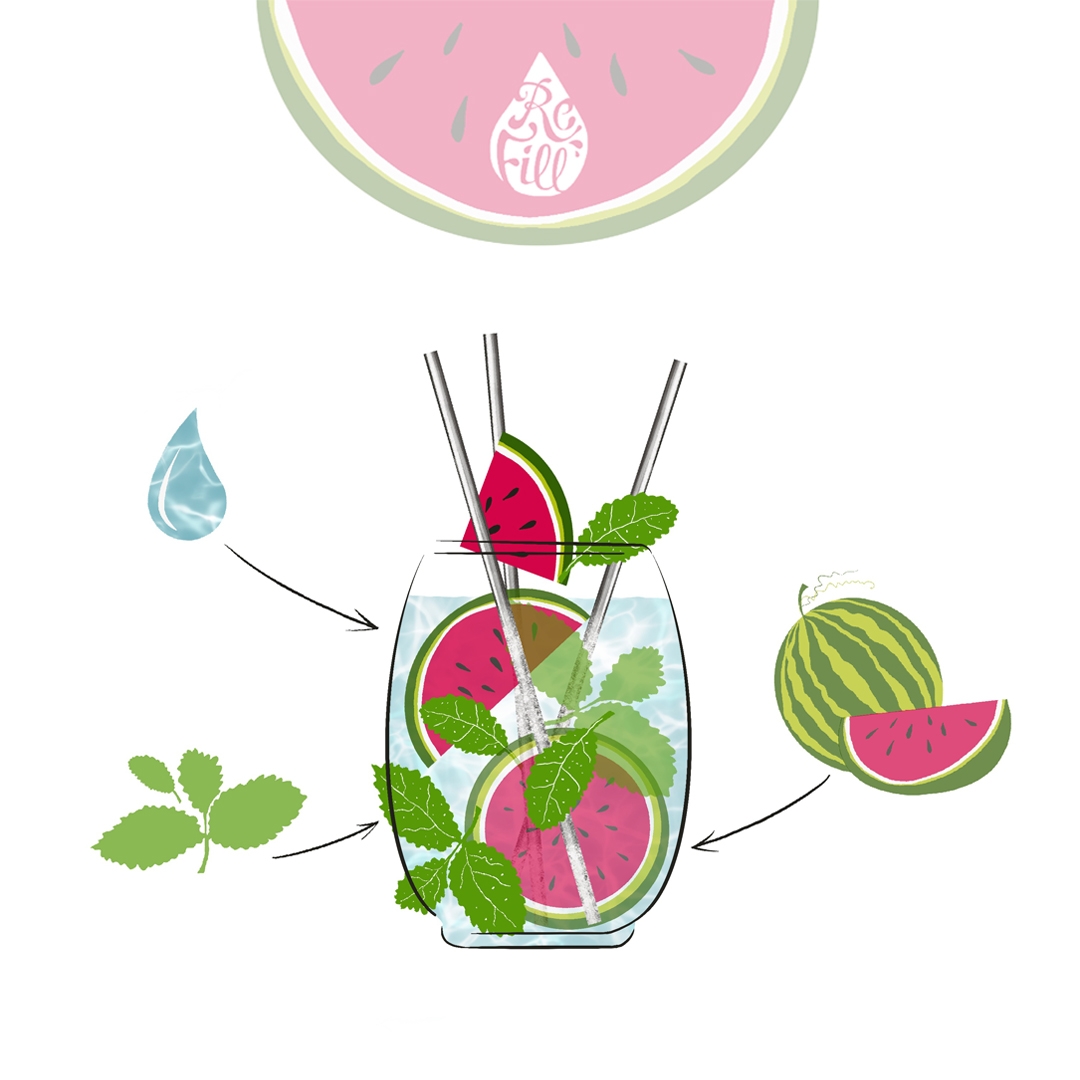 Ingredients: 
 2 cups of watermelon cut into 1-inch cubes 
A handful of mint sprigs 
Tap water 
Instructions: 
Chop the watermelon into 1-inch cubes. 
Put the watermelon cubes and mint into a jug or pitcher. 
Muddle together with the back of a spoon to release the juices. 
Top up with tap water. 
Put in the fridge for 2-4 hours – or overnight for more flavour. 
Pour over ice and garnish with watermelon slices and fresh mint.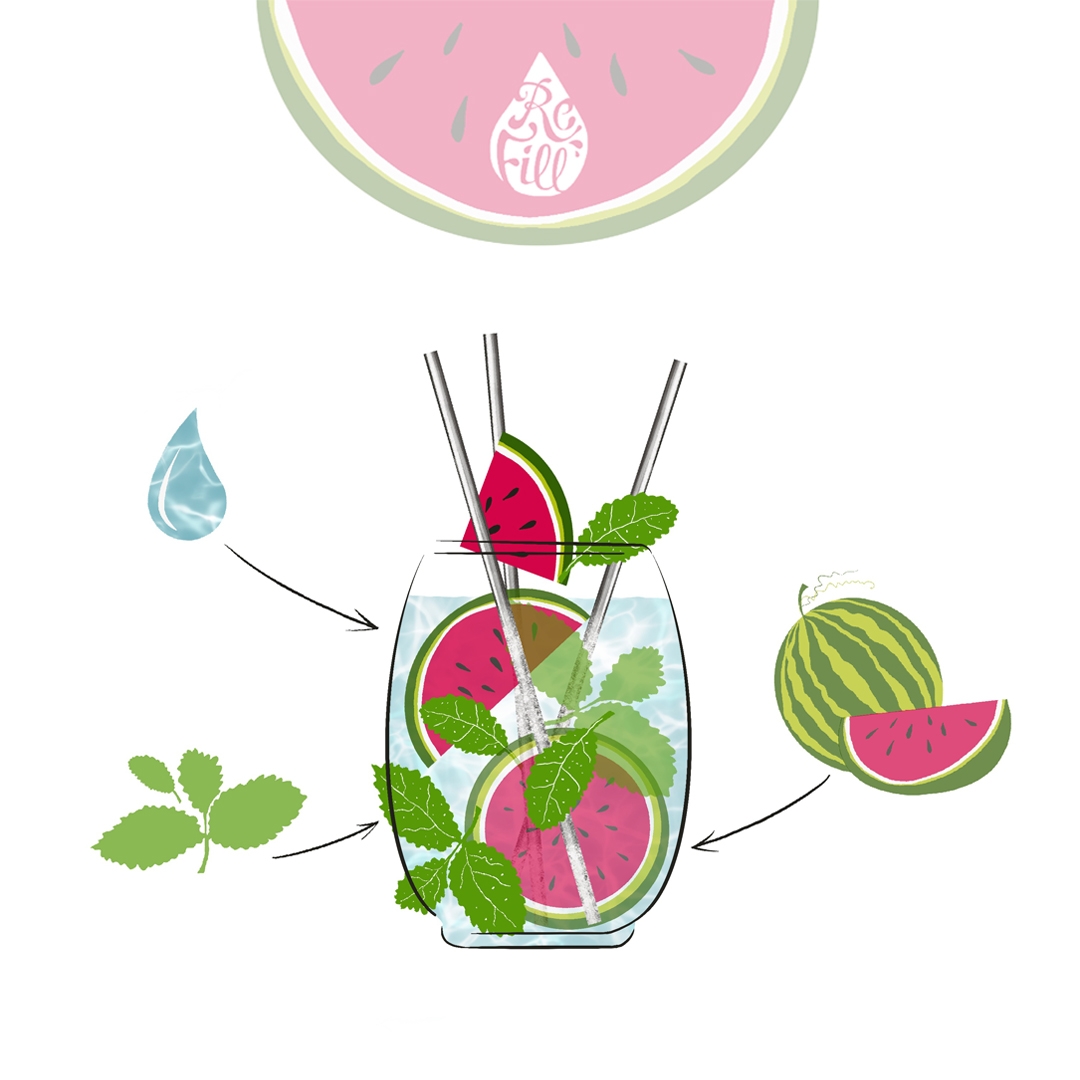 Remember, #TappyHour takes place every Friday at 5 pm, with a thirst-quenching new recipe for inspiration shared each Thursday over on our social channels. See you there for a virtual cheers soon! Salut. 🥂